2016-04-26
President Ilham Aliyev attended official opening of 7th UNAOC Global Forum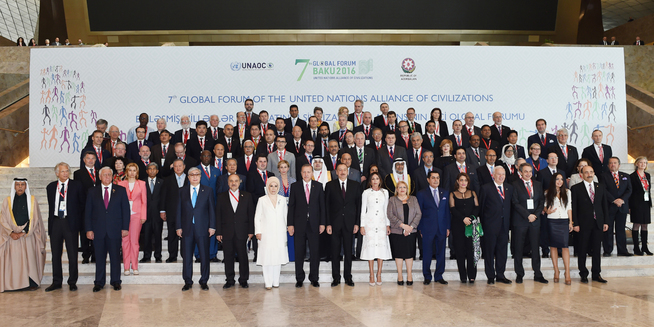 The 7th Global Forum of the United Nations Alliance of Civilizations (UNAOC) on the theme "Living Together in Inclusive Societies: A Challenge and A Goal" has kicked off in Baku.
President of the Republic of Azerbaijan Ilham Aliyev and his wife Mehriban Aliyeva attended the opening ceremony.
The head of state addressed the event.
Then the United Nations High Representative for the Alliance of Civilizations Nassir Abdulaziz Al-Nasser made a speech.
Secretary General of the United Nations Ban Ki-moon addressed the forum via video conference.
Then Spanish Minister of Foreign Affairs José Manuel García-Margallo and Turkish President Recep Tayyip Erdogan made speeches.
The forum brings together more than 3000 delegates, including heads of state and government, high-level officials, politicians, public figures, representatives of leading international organizations and think tanks, and scientists.
The organizers of the forum include UNAOC, UNESCO, UNWTO, ISESCO and Council of Europe.